Go Farther Together Day, 04.24.21
April 8, 2021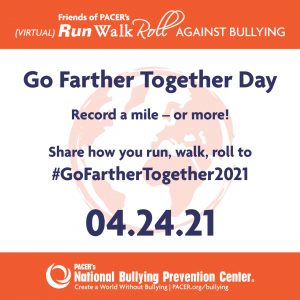 Celebrating every step taken during April's virtual Run, Walk, Roll Against Bullying
Everyone is invited to register for free to join hundreds of others across the nation in April's virtual Run, Walk Roll Against Bullying to collectively walk, run, or roll 24,901 miles – the circumference of the earth – throughout the month. Each recorded mile will symbolically move us one step closer to creating a world that is a little kinder, more accepting, and more inclusive for all.
While everyone is working toward this goal throughout the month of April, let's celebrate every step taken on Go Farther Together Day!
Saturday, April 24, is a day to support each other in making progress toward – or even surpassing! – our goal of circling the world.
On Go Farther Together Day, everyone is encouraged to:
Record a mile or more!
Show how you are participating with a post to #GoFartherTogether2021
---