'T.E.A.M. Rudolph and the Reindeer Games,' a new toolkit for teachers
November 30, 2016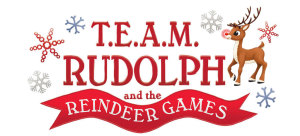 PACER is pleased to offer a new resource for teachers: "T.E.A.M. Rudolph and the Reindeer Games" (T.E.A.M. stands for Treat Everyone As Members). This free digital teacher toolkit celebrates acceptance and inclusion through teamwork.
The toolkit was created in conjunction with the release of a new picture book of the same name by Joe Troiano, who is also the author of Spookley the Square Pumpkin. The book reveals the untold story of how the Reindeer Games became a celebration of acceptance and diversity.
Educators can register online to receive the toolkit's resources, which includes streaming video of the picture book, classroom activities and a discussion guide, and streaming Rudolph music.
A portion of the proceeds of the sale of the book will be donated to PACER's NBPC.
For information and to register for the classroom toolkit, visit PACER.org/TeamRudolph.
---