Choose Kindness, Acceptance, and Inclusion!
September 9, 2019
Make a statement to help prevent bullying!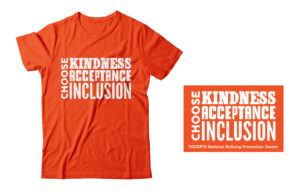 This one-of-a-kind shirt and stickers are only available during September and October. Order soon so that you can show your support by wearing orange, the signature color of bullying prevention, during National Bullying Prevention Month, on Unity Day, and all year long. Proceeds will benefit PACER's National Bullying Prevention Center so that we can work with you to prevent bullying and promote kindness, inclusion, and acceptance in our schools, communities, and the world!
Order your T-shirt or stickers today!
---